Humility Scroll
Dating back to the Western Zhou period (1,000 – 750 B.C.), Yi Jing (Book of Changes) is an ancient Chinese divination text. It has been the subject of scholarly commentary and the basis for divination practice for centuries, as well as a philosophical guide to ethical living and a manual for rulers. This artwork features the 15th chapter of Yi Jing, which is a treatise on the virtue of true humility. Glazed into a traditional Chinese black brick ceramic with inscriptions of calligraphic seal script, it has been baked in a long and thin "dragon kiln" in Zhongshan, Guangdong province, by means of time-honoured techniques. The finished work, framed by Portuguese hand-painted azulejos (tiles), embraces the theme of bridging the cultural heritage of the East and West in Grand Lisboa Palace.
Location
Grand Lisboa Palace West Lobby
Dimensions
3,680 mm (W) x 4,547 mm (H)
Medium
Traditional Chinese black brick ceramic with Portuguese porcelain tiles (azulejo)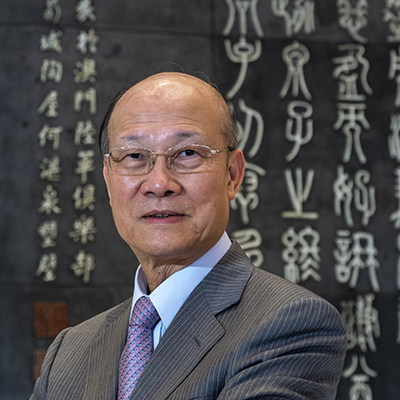 Ambrose So
A renowned calligrapher in Macau and Hong Kong, Dr. Ambrose So is the Founder and Chairman of the JiaziSociety of Calligraphy. He has held various solo exhibitions in Hong Kong, Macau, Shanghai, Beijing, Guangzhou, Taiwan, Lisbon and Aveiroin Portugal, as well as Burgundy in France. Some of his works have been collected by various museums, notably the University Museum and Art Gallery of The University of Hong Kong (HKU), Hong Kong Museum of Art, University of Macau (UM), Macao Museum, Hunan Provincial Museum in China, Tsing Hua University in Taiwan, Princeton University Art Museum and the Library of Congress in the United States. He is advisor to the Centre for Studies of Hong Kong, Macau and Pearl River Delta at Sun Yat-sen University, and Chairman of the Association of Chinese Culture and Art of Macao. He was awarded the Honorary University Fellowship by HKU, the Doctor of Social Sciences honoris causa by UM, and the Honorary Fellowship by HKU SPACE. He was conferred Medal of Merit – Culture by the Macao SAR Government in 2009, and Comendadorda Ordemdo Méritoby the President of Portugal in 2014.