The Grand Buffet
At the Grand Buffet, you can explore a sumptuous and unrivalled buffet dining experience featuring mouth-watering gourmet delicacies from around the world. Indulge your taste buds in a comprehensive menu made with premium ingredients, meticulously updated to honour the freshest tastes of the season.
As you explore the restaurant's wide array of live-cooking stations, immerse yourself in a unique ambience evocative of Asia's vibrant street food scene. With each visit, you will discover a tantalising, curated array of international dishes from Chinese, Pan-Asian and Western cuisines, all prepared with high-quality ingredients. Stop by the Seafood Market* to satisfy your cravings with unlimited live seafood prepared with your choice of six cooking methods, as well as a fresh oyster bar served up on a four-metre-long fishing boat. You can also enjoy freshly grilled seafood and meat at La Parilla*, Macau's only dedicated outdoor BBQ pit.
Savour your global delicacies at a cosy table with expansive windows that offer gorgeous views of the resort's inspiring architecture and verdant gardens. When the bell rings, get ready for a visual feast as chefs display the evening's highlighted delicacies, such as braised abalone and steamed whole pig.
For an additional fee, you can make your dinner banquet even more memorable with on-demand premium seafood.
Cuisine
Buffet / International
Contact
Hours
Lunch: 12:00 p.m. to 3:00 p.m.
Dinner: 5:30 p.m. to 10:30 p.m.
(Closed on Tuesdays)
*Resume of operation from 11 August 2022
Location
Level 3, Grand Lisboa Palace Macau
Age Limit
All ages are welcome
Price
Lunch
Monday to Friday: Adult - MOP288 / Child - MOP144
Saturday to Sunday and Public Holidays: Adult - MOP388 / Child - MOP194
 
Dinner
Monday to Thursday: Adult - MOP688 / Child - MOP344
Friday to Sunday and Public Holidays: Adult - MOP788 / Child - MOP394
Price is subject to a 10 % service charge.
The age range of the child price is 7 to 12 years old.
Each adult diner may bring one (1) child aged 6 or under for no additional charge.
*The Seafood Market is available in the evenings. La Parilla BBQ is available in the evenings on Fridays to Sundays and public holidays.
MAKE A RESERVATION


Select Date and No. of Guests
Reservation Information
Date: 21 February 2021,
Time: 12:30,
Guest: 2 Adults, 0 Child

Reservation Successful
Restaurant: The Grand Buffet
Date: 21 February 2021,
Time: 12:30,
Guest: 2 Adults, 0 Child
Your reservation at The Grand Buffet was successfully created. Please present this confirmation number at the restaurant's reception upon arrival. We are looking forward to your visit.

Reservation failed
Global Flavours and Premium Ingredients
The reinterpreted Asian marketplace concept offers a culinary adventure where you can take your palate on a world tour of delightful dishes prepared with fresh, high-quality seasonal ingredients. Feast your taste buds on an exceptional variety of delectable fresh seafood like raw oyster, sashimi and sushi; authentic Taiwanese delights; homemade Chinese barbecue including Shunde steamed whole pig; giant grouper fish prepared in a fresh, sweet congee or a spicy, sour golden soup; luscious western delicacies such as pan-seared foie gras; and more.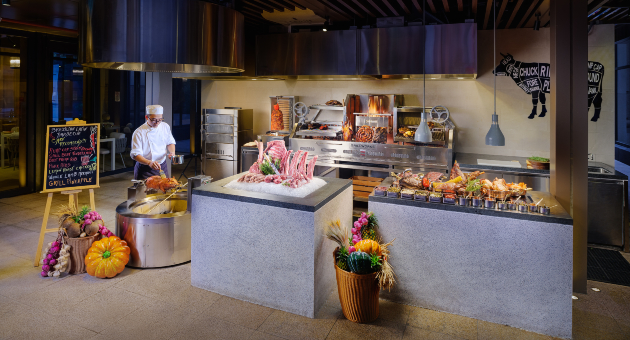 Multi-Sensory Dining Experiences
The Seafood Market offers a picturesque setting complete with an intriguing atmosphere and welcoming service. Choose your live catch straight from the fish tanks and savour it prepared in a variety of delicious ways, including black-pepper flavour and Singaporean-styled chili sauce. On the weekends, the exclusive outdoor La Parilla barbecue serves up lychee-wood-grilled seasonal dishes, while an outdoor seafood area offers onsite pentolo pan cooking on Festive Days.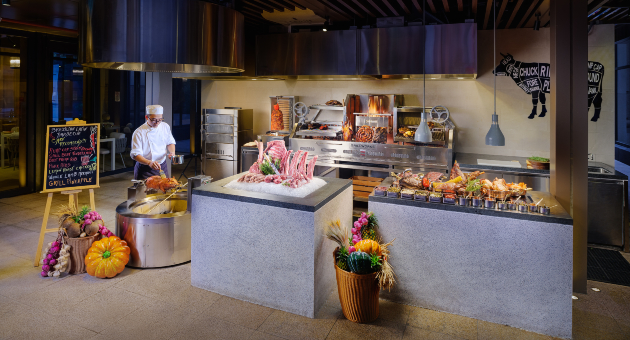 The Perfect Complements for Your Meal
Satiate your sweet tooth and your thirst with an array of desserts and beverages. Indulge yourself with dazzling treats such as chouquettes, ginger milk pudding and a chocolate fountain, available on a rotating basis. In addition, the bountiful beverage menu offers a range of flavourful favourites, including tropical specials and a variety of mocktails at dinnertime.