The Grand Buffet
The Grand Buffet invites you to explore an unrivalled culinary buffet journey through the vibrant cuisines of China, Southeast Asia and around the world. Indulge your taste buds in a comprehensive menu made with a diverse range of high-quality ingredients, meticulously updated to honour the freshest tastes of the season.
Start your day with a lavish spread of dishes at the breakfast buffet. Continue your gourmet explorations during lunch and dinner at the restaurant's extensive live-cooking stations. Inside this unique ambiance evocative of Asia's lively and vibrant street food scene, you will discover a tantalising array of dishes from different regions of China and Southeast Asia, including authentic specialties from Malaysia, Singapore and India, as well as a chilled seafood station and gourmet international fare. In the evenings, you can also stop by La Parilla*, Macau's only dedicated outdoor BBQ pit, where the succulent seafood and meat on the grill will captivate you with their sizzling sounds and delicious aromas.
Savour your global delicacies at a cosy table with expansive windows overlooking the resort's inspiring architecture and verdant gardens. When the bell rings, get ready to feast your eyes as well as your tongue as chefs present the evening's highlighted delights, including roasted whole pig, abalone with garlic sauce, live-cooked giant grouper and more.
For seafood lovers, the restaurant will also prepare special, made-to-order à la carte live seafood dishes to satisfy your cravings. Packages featuring different combinations of lobster, prawns, abalone and more as well as wine, beer or champagne are also available to make your dinner even more memorable.
Cuisine
Buffet / International
Contact
HOURS
Breakfast: 7:00 a.m. to 10:30 a.m.
Lunch: 12:00 p.m. to 3:00 p.m.
Dinner: 6:00 p.m. to 10:00 p.m.
(Closed for lunch and dinner on Tuesdays; breakfast served daily)
Location
Shop 308, Level 3, West, Grand Lisboa Palace Macau
Age Limit
All ages are welcome
Price
Breakfast
Daily: Adult – MOP238 / Child – MOP119
Lunch
Monday to Friday: Adult – MOP298 / Child – MOP149
Saturday to Sunday and Public Holidays: Adult – MOP398 / Child – MOP199
Festive: Adult – MOP508 / Child – MOP254
Dinner
Monday to Thursday: Adult – MOP588 / Child – MOP294
Friday to Sunday and Public Holidays: Adult – MOP688 / Child – MOP344
Festive: Adult – MOP738 / Child – MOP369
Price is subject to a 10 % service charge.
The age range of the child price is 7 to 12 years old.
Each adult diner may bring one (1) child aged 6 or under for no additional charge.
Upcoming Festive Days include: 8 to 9 April, 29 to 30 September, 1 to 8 October, 23 to 25 and 31 December 2023 and 1 January 2024
*La Parilla BBQ is available in the evenings on Fridays to Sundays and public holidays.
MAKE A RESERVATION


Select Date and No. of Guests
Reservation Information
Date: 21 February 2021,
Time: 12:30,
Guest: 2 Adults, 0 Child

Reservation Successful
Restaurant: The Grand Buffet
Date: 21 February 2021,
Time: 12:30,
Guest: 2 Adults, 0 Child
We will contact you shortly regarding your reservation and deposit. Please present your confirmation number at the restaurant's reception upon arrival. We look forward to serving you.
Your reservation at The Grand Buffet was successfully created. Please present this confirmation number at the restaurant's reception upon arrival. We are looking forward to your visit.

Reservation failed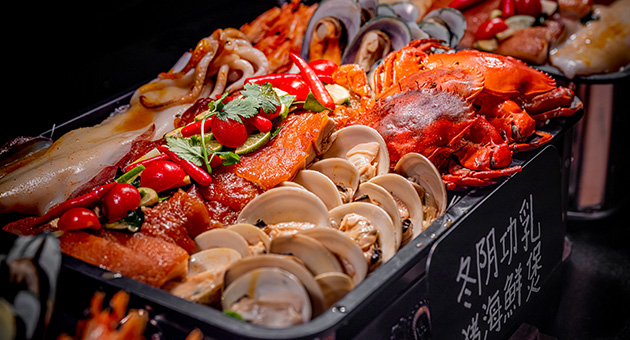 International Gastronomy to Delight Your Palate
The reinterpreted Asian marketplace concept offers a culinary adventure where you can take your taste buds on a world tour of vibrant dishes prepared with fresh and seasonal ingredients. Enjoy the sea's bounty with eight types of seafood on ice, as well as sashimi and sushi. Experience the gastronomy of Southeast Asia with authentic local specialties such as Bak Kut Teh from Singapore, Beef and Chicken Satay from Malaysia and lamb kofta kebabs from India. In addition, you can explore traditional and contemporary dishes from different regions of China and around the world.