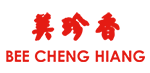 Bee Cheng Hiang
It was 1933 when an enterprising migrant developed an idea to peddle his mobile cart along the street of Chinatown to sell his unique and tasty homemade barbecued meat. Business was especially brisk during festive seasons for this high quality delicacy. Mr Teo Swee Ee introduced this traditional cuisine as 'Bakkwa'. This marked the birth of Bee Cheng Hiang legacy. With over 370 outlets in Hong Kong, Mainland China, Taiwan, Singapore, Korea, Japan, Malaysia, Indonesia,  Cambodia, Vietnam and The Philippines, this food expert prided itself in providing customers with quality food.
With over 80 years of commitment under our belt, our value remains unchanged. We believe in delivering the finest to our customers and their loved ones and for them to experience enjoyable moments in life through the sharing of our products. 
Taking its inspiration from his passion for calligraphy and divination, the young Mr Teo carefully selected these three Chinese characters with profound thoughts and meanings appended to the brand name. Each bold brand mark encompasses a medley of nine calligraphic strokes which signify brand longevity and a representation of the product and trade.
At the same time, it also expresses our commitment to consistently deliver premium products and a service quality that will leave our customers with everlasting impressions.
Location
Shop 203, Level 2, Grand Lisboa Palace
Hours
10:00 a.m. to 10:00 p.m.