Zuicho
Centred around refined "kappo" cuisine that emphasises the connection between diner and chef, Zuicho invites you to indulge in an immersive and interactive journey through Japan's culinary traditions. Helmed by Head Chef Yoshinori Kinomoto, the restaurant presents exquisite seasonal menus featuring sashimi and cooked dishes that entice the senses with premium ingredients sourced daily from Japan. In this cultured ambience, you can savour a multi-course, multisensory 'Omakase' meal where each dish is prepared in front of you in an elegant display of culinary mastery.
Designed with the innovative notion of pairing design elements with food, Zuicho offers a gracious and elegant space that is as thoughtful and handcrafted as the meals it serves. A nine-metre-long wooden counter masterfully carved from a 350-year-old hinoki tree is the restaurant's centrepiece, showcasing beauty that grows with the passage of time. As you savour each delicious course, you can pair your food with selections from the restaurant's beverage list of world-class sake and wine, selected for their unique characteristics and flavour profiles. Traditional Japanese tea, whisky and beer are also available that perfectly complement the cuisine, enhancing your authentic kappo dining experience.
Contact
Hours
6:00 p.m. to 10:30 p.m.
(Closed on Tuesdays and Wednesdays)
Location
Level 3, Grand Lisboa Palace Macau
Dress code
Smart casual
For gentlemen: smart casual with ankle-length trousers; no open shoes, sandals, or sleeveless tops
Age Limit
Children aged 12 or below are allowed to dine in private dining room only
MAKE A RESERVATION


Select Date and No. of Guests
Reservation Information
Date: 21 February 2021,
Time: 12:30,
Guest: 2 Adults, 0 Child

Reservation Successful
Restaurant: Zuicho
Date: 21 February 2021,
Time: 12:30,
Guest: 2 Adults, 0 Child
Your reservation at Zuicho was successfully created. Please present this confirmation number at the restaurant's reception upon arrival. We are looking forward to your visit.

Reservation failed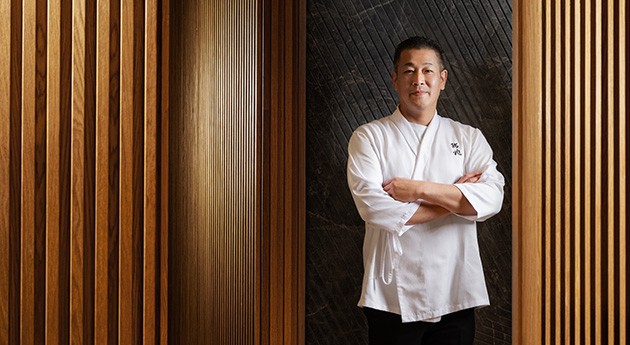 Meet the Chef
With over 28 years of experience in Japanese cuisine, Head Chef Yoshinori Kinomoto brings to Zuicho a keen sense for the seasonality of sea produce and insightful experience in preparing fish, promising a wide variety of creative, fresh maritime flavours. Proficient in many culinary techniques, especially kaiseki and edomae sushi, Chef Kinomoto devotes meticulous effort to his kappo cuisine, carefully curating a personal experience for each diner with expert skill and hospitality.