W. meets E.
Specially tailored for Grand Lisboa Palace, the two illustrious paintings play with the ideas of how "The East as seen by the West" and "The West as seen by the East". The first presents a phantasmagorical festival of gorgeous temples, exotic blooming gardens, oriental patterns, meditative landscapes and exquisite ceremonies; the second features a maze of vineyards, spectacular Chateaux, royal ceremonies, historical and cultural personages combined with today's pop icons.
Location
Grand Lisboa Palace East Lobby
Dimensions
4,080 mm (W) X 4,947 mm (H)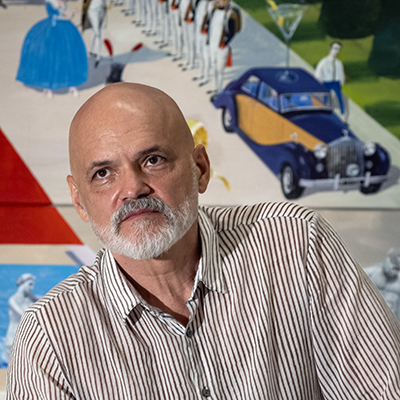 Konstantin Bessmertny
Macau and Hong Kong-based artist Konstantin Bessmertny creates detailed paintings that engage with literature, history, music and politics in an intelligent and whimsical manner. He represented the Macau Pavilion at the 2007 Venice Biennale, and has presented solo shows all over the world.