Serene Dawn of Tomorrow
This artwork features traditional Southern Chinese architecture and traditional Portuguese architecture; the two main matrices which have shaped and molded Macau's local fusion architecture; generating a vibrant yet serene natural landscape.
This idyllic landscape eternalises the beauty of Macau through three iconic landmarks which reflect the city's modern growth: the old, charismatic Hotel Lisboa, symbolising the beginning of Macau's recent prosperity; the Macau Tower, signifying its development and transition into a SAR; and the Grand Lisboa, rising amongst golden mountains in the distant centre to represent confidence in Macau's exciting prospects to come.
Macau's historical location at the Pearl River Delta is embraced by water and the water runs everywhere around this artwork, making Macau an everlasting spring to be born every dawn.
Location
Grand Lisboa Palace East Lobby
Dimensions
6,705 mm (W) x 4,170 mm (H)
Medium
Hand-painted mixed media panel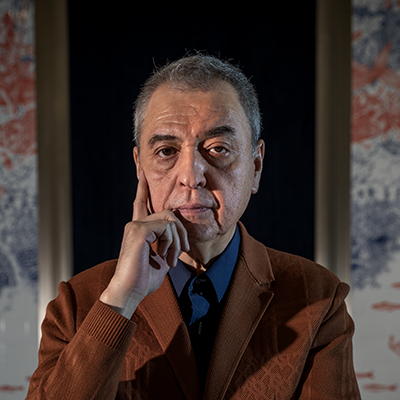 Carlos Marreiros
An architect, artist and university professor, Carlos Marreiros is the founder, partner and President of MAA Marreiros Architectural Atelier Ltd. and President of Albergue SCM / ALBCreativeLAB, an art and culture hotspot in Macau. He has been awarded "Medal of Cultural Merit" decoration by the Governor of Macau in 1987, "Medal of Value" decoration - the highest distinction of Macau - by the Governor of Macau in 1999, "Great Officer of the Order of Prince Henry" (Grande Oficial da Ordem do Infante D.Henrique) decoration by the President of the Republic of Portugal in 1999, and "Medal of Professional Merit" decoration by the Chief Executive of Macau Special Administrative Region of the People's Republic of China in 2002.