Macau Glory
Using the traditional art of Portuguese glazed tiles - "Azulejo", this artwork depicts the development of Macau's socio-culture and history from the 16th century up to today.
The first panel represents the initial encounter between the Chinese and Portuguese; illustrating their mutual curiosity and first exchange of gifts, while the second panel shows the continuing deepening bond between Macau's different communities.
All the characters and symbolic elements hang over a cosmopolitan city, with a detailed urban narrative that depicts Macau's evolution throughout the centuries.
The two Azulejo panels tell the stories of all the communities in Macau over the last five hundred years.
Location
Grand Lisboa Palace East Lobby
Dimensions
2,300 mm x 4,945 mm x 2 panels
Medium
Portuguese porcelain tiles (azulejo)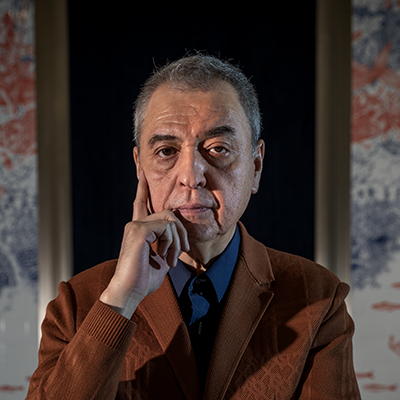 Carlos Marreiros
An architect, artist and university professor, Carlos Marreiros is the founder, partner and President of MAA Marreiros Architectural Atelier Ltd. and President of Albergue SCM / ALBCreativeLAB, an art and culture hotspot in Macau. He has been awarded "Medal of Cultural Merit" decoration by the Governor of Macau in 1987, "Medal of Value" decoration - the highest distinction of Macau - by the Governor of Macau in 1999, "Great Officer of the Order of Prince Henry" (Grande Oficial da Ordem do Infante D.Henrique) decoration by the President of the Republic of Portugal in 1999, and "Medal of Professional Merit" decoration by the Chief Executive of Macau Special Administrative Region of the People's Republic of China in 2002.