Auspicious Stars Shining Over Macao
This die-cut metal linework of one of Macau's most iconic landmarks, St. Paul's Façade, is backed with Portuguese tiling and oyster shells, referencing Macau's pavement and its Chinese nickname, Hou Keng ("oyster mirror", a reference to the oyster beds surrounding the peninsula) respectively. The gold and blue mosaic tiles are an elegant nod to Hotel Lisboa's historic mosaic ceiling, while the use of detailed architecturally-themed linework creates a cohesive thematic connection with artworks at the other check-in counters.
Location
Grand Lisboa Palace East Lobby
Dimensions
3,600 mm (W) X 4,295 mm (H)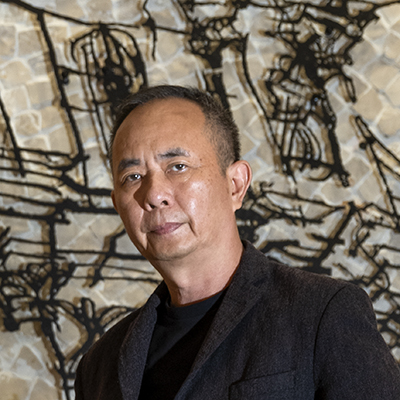 Ung Vai Meng
Macau native Ung Vai Meng studied under renowned local watercolour artist Kam Cheong Ling. He is a member of the Macau Artist Society and a founding member of Círculo dos Amigos da Cultura de Macau, and in 1999, he was designated as the first Director of the Macau Museum of Art. From 2010 to 2017, he was appointed as President of the Macau SAR Government's Cultural Affair Bureau.