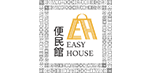 Easy House
Easy House, a prime food and camping themed grocery store, that offers a premium selection of gourmet and a wide range of camping gear. The store is separated to a retail showroom and camping experience zone.
We has selected the ultimate collection of global beverages, ham & cheese and other international special foods; partnering with local camping brand, LOHKA, we are the first Macau leading gourmet and camping gear retailer. You can pick your most favorable camping equipment here in our experience zone; sit down and have a chat about your upcoming camping plan with your buddies.
Location
Shop 106, Level 1, The Bazar at Grand Lisboa Palace
Hours
12:00 p.m. to 8:00 p.m.